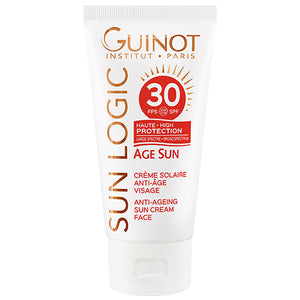 The all new Guinot Sun Logic Suncare range includes the Medium Sun Protection Guinot Sun Logic Age Sun (50ml) anti-ageing suncream for the face with SPF30 protection.
Effectively prevents sunburn and helps protect against the harmful effects of UV rays which cause skin ageing.
FILTERS : protect against UV rays.
MELANIN : protects against blue light and its harmful effects on skin ageing.
DNA : Sacrifices itself to protect the DNA in the cell nuclei.
ELASTOPROTECTINE : protects elastic fibres.
Directions
Apply sunscreen before sun exposure. Reapply frequently to maintain the level of protection, especially after perspiring, swimming or towel drying the skin.