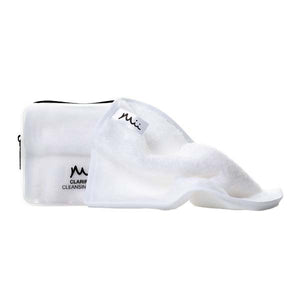 Forget the makeup wipes and make way for a guilt-free, planet-friendly solution to makeup removal with Mii's Clarifying Cleansing Cloth. The 100% microfibre, non-bleached fabric allows for an easy and highly effective removal of makeup whilst also gently lifting away daily impurities. The fibres of the cloth 'catch' unwanted grime, makeup and environmental pollutants from the skins surface. The complexion is left clean and fresh, with pores unclogged and ready for the next steps in a skincare routine. Saturate with warm water or pair alongside Mii's Clarifying Cleansing Balm for an unstoppable, salon-quality, facial cleanse that melts away all traces of makeup. The super soft texture and non-scratchy fabric is kind and gentle to your skin whilst also reducing your environmental impact as they can be machine washed up to a 1000 times. Complete with two cloths and a handy zip-up pouch to keep the cloths safe, clean, easy to store and transport. Designed to work with all skin types, vegan friendly and cruelty free. When soaked in water the cloths can also remove cleansers, masks and exfoliators.
•Sustainable cleansing method
•Salon-quality
•Provides a deep facial cleanse
•100% microfibre
•Leaves skin feeling clean and refreshed
To maintain the skins health wash after each use. Suitable for a machine wash at 30 degrees or hand wash followed by air drying only.
Soak the cloth in warm water and squeeze out any excess liquid before gently wiping over the face and neck. Repeat until all makeup has been removed and the skin feels clean, polished and fresh.
Size dimensions 13x4.5x10 cm