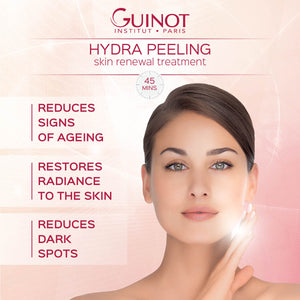 Guinot Hydra Peel.  £60, plus receive a travel size Guinot product for free
Guinot Hydra peel treatment – 45 minutes

The Radiance Peeling Treatment
Cosmetic peel suitable for all skin types including sensitive skins. Brightens and evens skin tone to restore a youthful complexion.
Guinot's HYDRA PEELING treatments exfoliate, resurface, moisturize and renew the skin. Hydra Peeling with Hydra PH uses Phytic Acid while Hydra Peel with Hydrabrasion uses natural cellulose particles and papaya extracts. Hydra Peeling offers two versions of the peeling component, the first with Acid PH for all skin types; the second, gentler, for sensitive skin with manual Hydrabrasion.
Both versions are completed with a skin regenerating cream and massage phase and then with a soothing, beauty-enhancing mask. In just 45 minutes the skin will feel splendid, beautiful and re-energized. Both treatments minimize brown spots, smooth out the texture of the skin, increase radiance, minimize signs of aging and deeply moisturize the skin. The best suited Hydra Peel treatment is determined on the client's beauty goal and level of sensitivity. The skin will look brighter, feel cleaner, fresher and younger regaining its luminosity.