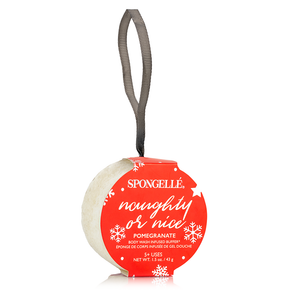 Celebrate your skin this season with Spongellé's giftable Body Wash Infused Buffers in Pomegranate. Perfect to hang as an ornament or give as a gift, these Body Wash Infused Buffers will cleanse, exfoliate, massage and nourish. All in one beauty treatment.
Pomegranate
T: effervescent accord, sparkling citrus M: tart cranberries, juicy plum, mixed berries B: white musk
Benefits
• Multi-Function, Multi-Use, 7+ Uses
• All in One Beauty Treatment
• Extracts of Yuzu, Edelweiss, & Vetiver
• Time-Released Lather
• Dermatologist Tested
• Vegan Friendly, Cruelty-Free
• Proprietary Infusion Technology
• Includes hanging ribbon
• Good for travel
How to Use: Place sponge under water, squeeze to absorb. Rise and squeeze buffer out after each use.