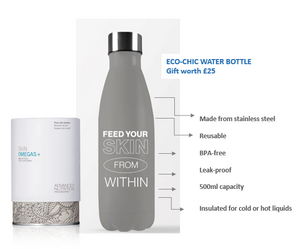 Summer Hydration Skin Omegas
Has your skin lost its luminosity? Is your complexion feeling tight and itchy?
If the answers yes, then your skin may need some hydration.
Dehydration is one of the most common skin conditions and happens
when your body loses more water than it's taking in,
leading to a loss of moisture along with all those classic signs that show up
on your skin - puffiness, dullness and pronounced wrinkles, to name a few.
To celebrate the skin-glowing benefits of our supersize Skin Omegas+ and plastic-free July, our summer hydration GWP is designed to support hydration.
Enjoy a GWP of our new  minimalist bottle wrapped in a premium matte grey finish and emblazoned with our "Feed your skin from within" message.
Retail £74 - Complimentary Gift worth £25
 "I developed psoriasis in September 2011. In May 2012, I started taking Skin Omegas+, 5 per day… By January 2013, I was taking 3 per day and now I only take 1 per day. At present I just have a few psoriasis which are barely noticeable."
 WHY SKIN OMEGAS+
Nourishes skin from head to toe especially winter skin challenges: dryness, dullness , rough hands and leg dandruff
Carefully calibrated combination of omega-3, omega-6 and vitamin A
Supports skin barrier
Like an internal moisturiser for the skin
Gives skin a luminous glow
Delivers +36% improvement in hydration
 HOW ARE OUR SKIN OMEGAS+ DIFFERENT?
Tested in our skin health research centre for efficacy: +40% improvement in hydration scores.
 Synergy of omega-3, omega-6 and vitamin A.
Sustainably sourced, premium fish oil with certification from friends of the sea.
Encased in fish gelatin and we list this on the label. If it's not listed on the product label, it is probably either beef or pork.
Fish-free smell or taste - "The signs of 'chemically cleaning' of fish oil are usually apparent due to a very strong fish smell and presence of the ethyl-ester (EE) forms on the ingredient list"
More information available here The sustainable story of our Skin Omegas+ - Advanced Nutrition Programme™