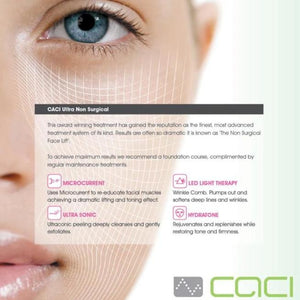 CACI Ultra non-surgical facials


The result of over 20 years research, the award winning CACI Facial Toning treatment has been voted* the most effective anti-ageing treatment available.
The CACI Ultra combines CACI Non-Surgical Facial Toning with Skin Rejuvenation. The system incorporates 4 different technologies: Microcurrent, Ultrasonic Peeling, LED Light Therapy stimulation within one state of the art treatment device and Hydratone.
Voucher must be purchased online. 15% off facial vouchers purchased on the day, redeemed in November 2023.

VOUCHERS ARE NON-TRANSFERABLE AND WILL BE HELD IN THE SALON.