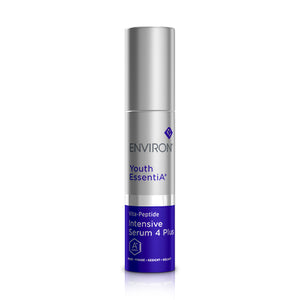 Environ® skincare – We may need to contact you regarding your regime due to the high levels of active vitamins.
Vita-Peptide Intensive Serum 4 PLUS is the new level of the Youth EssentiA Step-Up System. Packed with powerful peptides, vitamins and antioxidants, this advanced serum improves the integrity of the skin and protects against prematurely ageing environmental damage.
Environ Youth EssentiA Vita-Peptide Intensive Serum 4 Plus contains the highest concentration of vitamins A and C. It is specifically intended for people with severe photo-damaged skin and who wish to achieve even better results.
In addition to the potent actives found in the Youth EssentiA Vita-Peptide Intensive Serum 4 PLUS has additional ingredients for an enhanced anti-ageing results. These additional ingredients include:
JuvinityTM –

 

A complex lipid protein that recharges the skin and keeps cells behaving younger for longer, smoothing wrinkles and improving skin integrity. In vivo tests conducted by Environ show wrinkle depth is decreased by 26.5% and 80% of the panel said their skin was firmer.
Malt Secrets –

 

Barley Seed Extract, an active rich in polyphenols, protects the skin from daily environmental attack.
Ethylhexyl Methoxycinnamate –

 

Protects from UV radiation during storage, ensuring prolonged stability of these highly active ingredients.
It is ideal for those who have used 2-3 bottles of Vita-Peptide C-Quence Serum 4 and want to progress to the next stage of their skincare journey.
Benefits of Environ Youth EssentiA Vita-Peptide Intensive  Serum 4 PLUS:
Contains essential vitamins, antioxidants and peptides.
Assists in enhancing the appearance of skin texture and improving the appearance of uneven skin tone.
Moisturises and assists in softening the appearance of fine lines.
How to use:
Apply by lightly massaging gel onto the face, neck and décolleté. Allow to dry and follow with Environ Youth EssentiA Antioxidant Defence Creme.
This product may also be combined together with Environ Youth EssentiA Antioxidant Defence Creme as a blend in the hand before application.
Use morning and evening.
This is the fourth and final phase in the Vitamin step up system, for use by consumers whose skin is already comfortable with C-Quence 3.
Suitable for most skin types, especially those with mature, sun-damaged skin.
Not suitable for problematic skin types.
Sunburn Alert:

 

This product does not contain a sunscreen. Use a broad spectrum sunscreen, wear protective clothing, and limit sun exposure while using this product.
Size: 35ml
Please note that Environ is a consultation only product to purchase.

Therefore, if you are not a "Beauty at 28" client and would like to purchase Environ products, please call 0191 281 6333 for a free consultation in order for you to purchase Environ products