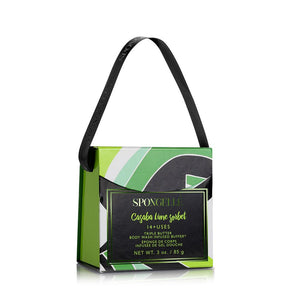 As a celebration of creative and modern abstract art, Spongellé introduces the Moda Collection. Give your shower a cleansing boost with Spongellé's triple butter body wash infused buffer®, formulated with moisturizing cocoa butter, nourishing shea butter and vitamin A-rich mango butter. Fragranced in sorbet flavors and enriched with black tea and coffee extracts, these body wash infused buffers® are an All In One Beauty Treatment. Looking for a gift? Spongelle's Moda purses are the perfect treat for someone special.
Fragrance Notes
T: mandarin, blood orange, grapefruit, bergamot M: creamy jasmine, honeysuckle, lily of the valley, gardenia petals B: sandalwood, white sand accord, musk
Benefits
• Triple Butter Infused Buffers
• Moisturizing Proprietary Body Wash Formula
• Multi-Function, Multi-Use, 14+ uses
• All in One Beauty Treatment
• Extracts of coffee & black tea
• Time-Released Lather
• Dermatologist Tested
• Vegan Friendly, Cruelty-Free
• Proprietary Infusion Technology
• Attachable string for hanging
• Good for travel
How to Use: Place sponge under water, squeeze to absorb. Massage in a circular motion to cleanse skin. Squeeze out excess water after each use.
Additional Info: Purse handle can be unsnapped and used to hang sponge in shower. To attach ribbon to sponge, unsnap ribbon from purse packaging and attach through hole located at the top of the sponge.