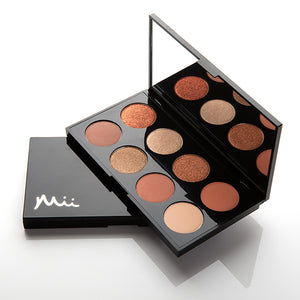 Mii ColourPlay Eyeshadow Palette 
Sizzling Seduction
Description
For a luxurious update on classic bronze, the Sizzling Seduction eyeshadow palette injects desirable warmth to eyelids in sumptuous earthy tones of clay and terracotta through to scorching hues of golden shimmer and burnished brown. Highly pigmented shades included in the Sizzling Seduction Palette: Antique Copper, Glisten, Golden Bronze, Blaze, Russet, Burnished, Spice and Cool Down The Heat.

Apply with Eye Smudge Brush.

Benefits
• Ultra-pigmented shades
• Colours can be worn individually or together to create endless looks to suit every occasion
• Add warmth to the eyes from the earthy tones or a decadent golden shimmer

How To Use
Apply the muted matte shades to create your base and add depth to the socket and lash line, while the shimmer shades add highlight, perfect for the inner corner, the middle of the eyelid or swept over the whole lid for a sensational reflection. Masterfully play with textures and finishes within your wardrobe of colour to create endless looks.