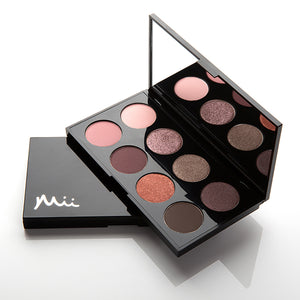 Mii ColourPlay Eyeshadow Palette 
Sizzling Seduction
Description
The enchanting Boho Berry palette brings a sense of iridescent reflection and wide-eyed optimism from soft powder pink to romantic lavender. Shades included in the Boho Berry Palette: Powder Pink, Grape Glitz, Quartz, Lavender, Plush Plum, Patchouli, Strawberry Fizz and Mystic.
Apply with Eye Smudge Brush.

Benefits
• Ultra-pigmented shades
• Colours can be worn individually or together to create endless looks to suit every occasion
• Add warmth to the eyes from the earthy tones or a decadent golden shimmer

How To Use
Apply the muted matte shades to create your base and add depth to the socket and lash line, while the shimmer shades add highlight, perfect for the inner corner, the middle of the eyelid or swept over the whole lid for a sensational reflection. Masterfully play with textures and finishes within your wardrobe of colour to create endless looks.