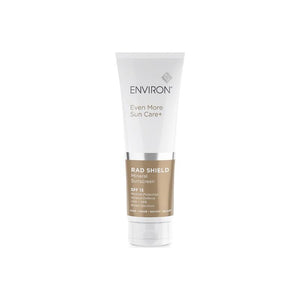 Environ RAD Shield Mineral Sunscreen SPF 15 is a lightweight, cosmetically elegant formulation that works hard with powerful physical sun reflectors, Zinc Oxide and Titanium Dioxide, to protect the skin from harmful UV rays.
It also contains a heat adaptive ingredient perfect for protecting against infrared radiation called Venuceane. This innovative ingredient is highly effective in protecting the skin against IR damage and ageing.
The Environ RAD Shield Mineral Sunscreen is perfectly suited for everyone over the age of 6 months and on all skin types and concerns. It is ideal for those with oilier skin types as the formulation is so lightweight. It is also fantastic for active individuals, sensitive skin and delicate enough for children.
Formulated with Shea Butter, the Environ RAD Shield Mineral Sunscreen SPF 15 is also very moisturising without being sticky or leaving a white cast. It also contains Vitamin E to further enhance moisture as well as provide antioxidant benefits, as well as tomato fruit extract, which absorbs UV light.
Dr Des Fernandes' pioneering sun care philosophy is at the heart of Environ RAD Shield Mineral Sunscreen SPF 15. This antioxidant-rich, physical sunscreen formula contains fewer chemicals but should be applied more often to achieve effective protection.
Benefits of Environ RAD Shield Mineral Sunscreen SPF 15:
Broad-spectrum protection against UVA & UVB
Formulated with Venuceane for infrared defense
Contains antioxidant-rich Vitamin E to defend the skin against free radicals
Please note that Environ is a consultation only product to purchase.

Therefore, if you are not a "Beauty at 28" client and would like to purchase Environ products, please call 0191 281 6333 for a free consultation in order for you to purchase Environ products