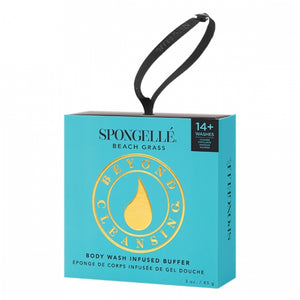 Spongella Boxed Flowers - BOXED Ideal for a gift, these incredibly scented flower body buffers are designed to moisturise and rejuvenate the skin, from neck to toe.
A unique surface changes instantly as you squeeze, from a sensual exfoliating massage texture to as soft as silk. 
Spongelles technology provides a guaranteed number of washes.
14 + Washes | 3oz | 85g
Spongelle Flower Body Buffer Benefits:
- Paraben FREE
- Body Wash Infused Buffer
- Multi-function and Multi-purpose
- Dermatologist Tested
- Hypoallergenic
- Cleanses, Exfoliates, Hydrates, Massages
- Time released lather
Turn on the Water and a Spongelle body wash infused buffer becomes the last word in pampering, Rich, one-of-a-kind fragrance, and swirls of thick suds envelope you from head to toe. Your skin is left feeling Fresh, Soft and Healthy and the experience is intensely pleasurable!!
Infused with exotic extracts, rich moisturizers and gentle cleansers our body buffers will keep skin youthful and glowing use after use. Gorgeous fragrance blends and forms a creamy lather making Spongelle the most luxurious bathing indulgence for your body and mind.